Doesn't this look wonderful? Dreamy thoughts of fresh jam poured into jars, waxed, closed in, boiled, placed to cool and put in the pantry. Perhaps they will be given as gifts . . . who knows.
That really wasn't what I wanted to write here, but just as I placed the graphic I had such memories coming back that I spaced for a couple of minutes. Well, I'm kind of spacy anyway
It's been raining pretty heavily here in Ventura. There is even snow on the top of our local mountains. It's supposed to rain again tonight and then warm up again. Truth is, except for the odd extreme highs and low,Southern California is a very wonderful place to be. We think we are freezing when the thermometer drops below 50 degrees. We are furious when the temperature hits 90 degrees (at least I am - fibro). Life is rough, huh?
The last few days have been tough around here. Everyone has been sick. Lupe went to school yesterday, Andrea went to school today and perhaps Kayla will go back tomorrow. I still have a gravely voice and the cough but I feel well from whatever it is we have had.
The other stresser this week has been this: Kayla and Lupe are leaving the nest on Saturday. Here they are with us last year at Sea World.; Lupe on left, then Kayla and Andrea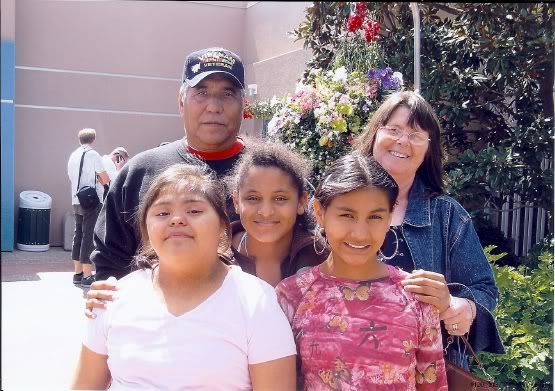 I will tell you this - it hasn't been an easy year. They lost Mama, had to get used to us (tough!) and used to a new school. Throughout the last year we have grown to love the girls very much. I have been quite ill this year, especially since I went into the hospital in August. This has made me less able to be all I can be for anyone in the family. Poor Rob has done my work, his work, supervised the girls and of course he has driven them everywhere they needed to go The girls (Andrea & Kayla) have been cleaning the kitchen, bathroom and their rooms . . . well so-so on the room . . . gosh . . . they are pre-teens afterall, whaddya expect?
To make a long story a little shorter, the result is this - Kayla and Lupe will be living with a wonderful (much younger) woman from our church. The new home has a larger bedroom and walk-in closet where they can store their "stuff".
It will be quieter around here and I will have a chance to build up my strength so I can be a more able wife and mom. I know we will miss them a lot. The good thing is that they will still be in our church and close by if we want to visit. And Andrea will have her mom and dad to herself again.
Well guys, I am getting very sleepy so I am going to sign off and hit the rack. I pray blessings on you all,