To all dads:
HAPPY FATHER'S DAY!!!
You know what? You men are great! I hope and pray that you have/had a good relationship with your children, grandchildren and your fathers.
For me . . . well, my father left before I was born. The few times I wanted him to be there, he wasn't. I never felt abandoned, though I guess we were. I had Dearie.
My grandfather on my mom's side was the closest thing I had to a father. He filled in where and as often as he could. He was an engineer and an inventor. He designed the bread machine for baking that is still in use today. I used to look up to a picture of that machine with rows of bread in various stages of the baking process. Rows and rows of bread wrapped around the machine - it was like conveyor belt that went around into the ovens. I loved that picture! My grandfather made it and I loved him so much. I would talk about him and his machine at school when we talked about fathers. We called him Dearie. That's what he and his wife always called themselves. We called my grandmother Boosie. That's another story. This is Father's Day. I would like to honor him today. His real name was William Kurtz Booth. Dearie, I loved you then and I love you still. We will meet again, I have no doubt.
This is a picture of my husband Robert and daughter Andrea.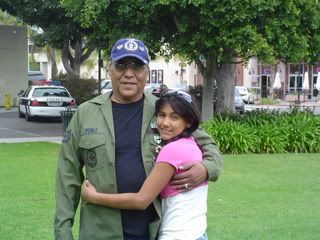 Rob is an amazing father! He always told the Lord that he wanted a wife . . . and maybe a little family. He had lost his only daughter to cancer, probably from his exposure to Agent Orange in VietNam. He never remarried for 30 years. When we married, we had 13 children. I was a missionary in Mexico running a home for children. He was an instant daddy. He loved those kids like nothing imaginable. We had a baby come to us at a time when we already 17 kids. She was cute as a button, but cried - no screamed - 24/7. I was sick when she came in so Rob or one of the older girls had to take care of her. They brought her into the room sometimes for me to hold and soothe. She cried. We tried, but decided we would have to send her home or to the state child services. Poor tired Rob! He said, "No more babies for a while". Then this tiny preemie came . . . he said no. I had such deep Holy Spirit touch that I had to take her. Rob said I would have to do all the care for her . . . she was 3 months old, but she only weighed about 3.5 to 4 lbs. I did all the care. Then one evening after we went to bed, Esperanza (hope) cried for a bottle and change. I changed her and laid her on the bed, asking Rob to keep an eye on her while I made the bottle. He told me to hurry. By the time I got back, Rob had her in the air talking to her. I said "What happened here?" his answer "She smiled at me". The man is a natural dad! Andrea loves him so much. Happy Father's Day, Rob.
This is my son John. He's a stay-at-home-dad. He has many accomplishments in this life, but the most important is that he's home with his daughter Athena. He's a great dad. He and Athena do some pretty silly things together. As well, he's there to see that she learns. She's grown up right before my eyes right here on the Internet. You know, I had not heard the term ~ stay-at-home dad. I couldn't be prouder of him . Happy Father's Day, John.
My son Robert lives in North Carolina with his blended family. I won't go into the who's who, but there 5 great kids in his home. Well, I will tell a little . . . he has 2 step kids and 1 son from a previous relationship. He has 1 stepson and 1 daughter now with Michelle. He's a great dad. Happy Father's Day, Robert
My new son-in-law Jason has come into a family of 3 girls and 2 boys. I know he is up to the challenge. Two of the girls no longer live at home, so he's got a little less stress. He knew them all for a number of years before he and Heather married. But once you marry . . . well, it's just different. He's a loving man and likes to be with the boys. Happy Father's Day, Jason.
What I want to say is this: if you have a dad in your life, let him know how much you love him! If you don't know your father or he left the family or he passed away, you still have a Father who loves you unconditionally. He will listen to your every gripe, to your anger or sadness. His ears are open for your cry for help or forgiveness. He created you. When you are weak, He is strong. His arms are open to receive you. He doesn't care who you are or what you've ever done. He is now my only Father. He was always there, but after Dearie died I needed Him more than ever. When my late husband died, my Father stepped in to comfort me and give me strength. Sometimes Iwould feel like I was resting in His arms and it was peaceful.
If you don't know my Father, I invite you now to know him. I'm here. Others who know Him are near to you. Talk to them. Don't spend another Father's Day alone.